Week 374 - Rancho California RV Resort - 10-13-2013
Rancho California RV Resort
We left Oceanside California and headed inland to Rancho California RV Resort.
We have been to this resort twice before, but never did an in-depth report. Rancho California RV Resort was a development of the Outdoor Resorts corporation and now is in the process of belonging solely to the RV site owners of the resort.
Rancho California is 17 miles east of Temecula on California Highway 79.
We rented our site from the owner. You can also rent from Fairway Associates, the onsite realty that also sells sites. We have close friends that own lots like these. But, for us this is the nicest site we have occupied in the 343 parks/campgrounds that we have visited.
As the resort is covered in grass, Mandy gave her approval, woof!
Our home for the day has a nice collection of outdoor furniture, lounge chairs, BBQ, lighting and fire pit.
Water just makes people happy and it worked for us with views like this from our backyard.
This patio is fun day or night. When you must go inside, hookups include 50 amps, water, sewer and cable TV. While our site is so nice that you really don't need any facilities, there are plenty here.
1) The large clubhouse (there are two) has a huge kitchen, dining seating for 400, a dance floor, stage and bar (when catered). 2) This pool is one of five (one is for owners only). All pool areas include a spa and restroom/shower facilities. There are also a number of laundry facilities in the resort.

The closest full grocery store is in Temecula. Thus, it is convenient to have a onsite store and restaurant. The outside patio is well-shaded for sunny days.
Many of the 593 sites border on the 14-hole golf course or one of the 26 ponds. Upon completion the golf course will increase to 18 holes.
We took enough photos of the golf course, water and grass areas to fill this entire travelogue. We had the difficult job of picking just a few to present.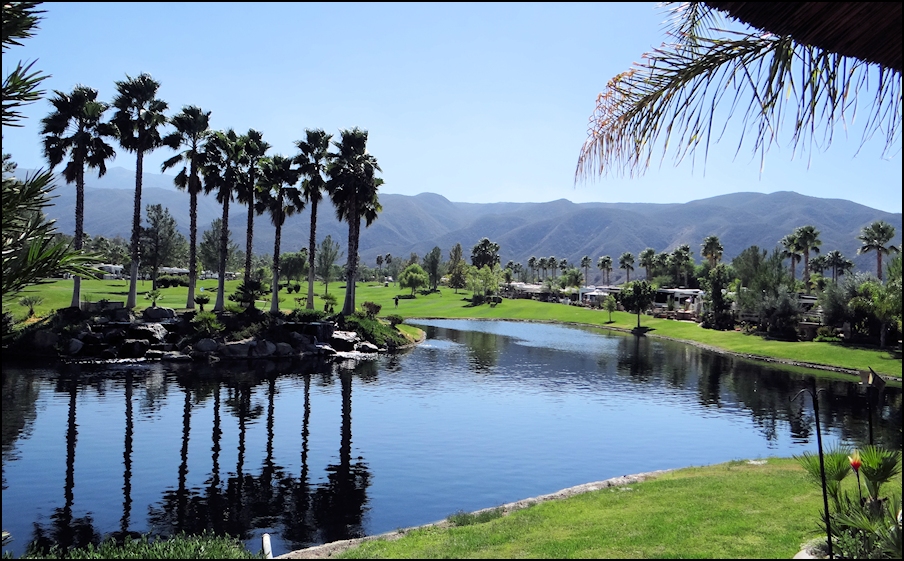 1) Mandy turns her nose up at dog parks without grass. This one made her happy and has lots of chairs for the parents. 2) The fitness room is small, but based on how many mature adults actually workout, most likely it is adequate. And the views out the windows are grass and water, like the rest of the resort.
This complex contains the office, small clubhouse, fitness center, WiFi and realty office. We have attended church here several times and the group of owners that attend are very committed to their spiritual walk. On the Sunday after Thanksgiving in 2006, we attended with our daughter Melissa. When the floor was opened to those who wished to express their thanks, their passion was so intense that it brought us to tears.
Do you want to live here in your motorhome or fifth wheel? Now is time to buy! We sound like salesman, but its just the truth. We have visited a dozen ownership parks across the nation and the prices here today (10-2013) are very reasonable. Lowest prices are for "undeveloped" sites as shown here. 1) Site 270 is listed at $49,500 2) Site 550 as $98,500. Why the difference? 270 is a standard size lot, 40 feet wide by 80 feet deep. The concrete pad is 18 by 60 feet. Site 550 is a very large corner lot. In addition to the mortgage, the HOA dues are $395 per month (10-2013). The dues covers the mowing of all grass, even on your lot, daily trash collection, water, sewer, cable TV and all the golf you want to play.
Development of the sites is up the owners. Given an approval by the HOA architectural committee and use of a licensed and bonded contractor, create what you want. Very popular are outdoor kitchens, tables and seating, covers ("pergolas" to some).
This large lot has huge covered social areas. Screened side walls block the wind and some sun. Roll them up for open area patios.
The park allows only Class A motorhomes and large fifth wheels, new to 10 years old. 1) This fifth wheel site has a very large patio. 2) Here is a view from under a covering on a different site.
While this looks like one of the many community buildings, it is an enhancement for one owner's site.
A very noteworthy point about Rancho California is the weather. Of all the ownership parks we have stayed at, this is the only one we would consider IF we wanted to live there ALL YEAR. The temperatures vary slightly up and down from the weather in North San Luis Obispo County. All the other parks are either too hot to stay in the summer or too cold in the winter.
And like every park we visit for an extended time, it is filled with really nice people that are a joy to be with. And then there is that church, wow!
No Mandy, we are not buying now, but nice pouty look, way to go girl!
Some think that people buy pets that look like them. What to you think?
Next week we are off to the Phoenix area to visit Ellen's cousins.
Special thanks to Candice from Fairway Associates for taking hours to give a tour of the facility. She knew we were writing a travelogue and not buying. Candice, it was pleasure to spend time with you, thanks.
With love, Pete, Ellen and Mandy
Photos from Oct 2013