Week 139 - He is Risen - 04-12-2009
He is risen indeed!
May the peace of God, which surpasses all understanding, guard your hearts and minds through Christ Jesus.
From Philippians 4:7. This is our prayer for those traveling with us via our weekly travelogues. Happy Easter!
It is amazing that just one week ago we were relaxing on the shores of the Colorado River in the Arizona desert and now here we are traveling from Bishop on the way to Lake Tahoe. Pete stopped to clear the gooey yellow bug guts off the windshield so Ellen could get good photos.
Mono Lake: The Mono Lake restoration project is progressing. They hope to have the Lake back to 1940 levels by 2012.
We spent a couple days at the Carson Valley Inn, Casino and RV park in Minden, Nevada. Guests at their RV Park get full use of the pool, spa and fitness room in the hotel. (
Carson Valley Inn
)
1) One of many streams that feed 2) Lake Tahoe, shown while passing through the city of South Lake Tahoe.
A gorgeous hillside coming west from South Lake Tahoe on Highway 50.
Mammoth Lakes, Lee Vining, Mono Lake, June Lake, Lake Tahoe and all points in between are great places to stop. But we are on a mission! Melissa is arriving at the Sacramento Airport to spend Easter with us at the Durango RV Resort in Red Bluff, California.
Durango, opened in August 2008, is a beautifully landscaped 4-star resort. Large concrete pads and patios adorn every site.
The large clubhouse is the center of activity of the park. It includes an indoor and outdoor fireplace, big screen TV, computer desk for guest use, a massage room ($), laundry, showers, restroom and rooms for private gatherings. Outside is the lap pool / wading pool, spa, lounge chairs, BBQ's and fire ring.
1) Pool and 2) spa with fellow travelers who all have been to Alaska, and gave Pete tips for our upcoming (hopefully) Alaskan trek.
1) Sites include
standard
like the one we had,
fountain
sites facing the three fountains and
river-view
sites. 2) The lounge.
River view sites next to second smaller clubhouse with meeting space, laundry, showers and restrooms.
1) Fire ring at the main clubhouse and 2) second ring at the river view sites.
Pete, Melissa and Ellen get in a little Pickleball action.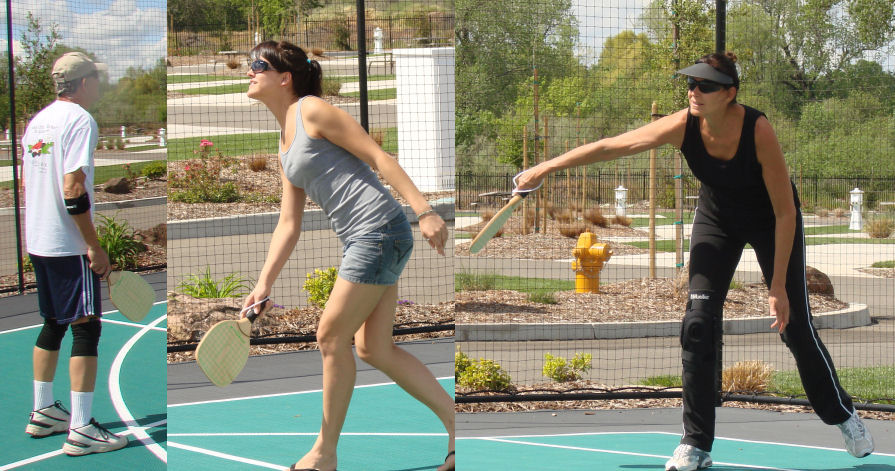 Melissa and Pete take time to float down the Sacramento River. Durango park manager, Bill, offered to drive us to our launching point and also to pick us up at the end of the float. Bill exemplifies the great service we received at Durango.
Next week we sadly send Melissa back to San Diego and then release the Mothership to an RV repair shop in Roseville for the reversal of fiberglass and metal body modifications made by Pete last November. More on this next week. Hope to see you then!
Love, Pete and Ellen
Photos from Apr 2009